Dear Guests and Visitors, From the 17th of December 2021 Mineral Sands Motel will be ONLY accepting guests who are FULLY VACCINATED. If you are not fully vaccinated, we respect YOUR CHOICE and would appreciate it if you can RESPECT OURS.
You will need to provide an Australian Government COVID-19 digital certificate.
Kind regards, Management.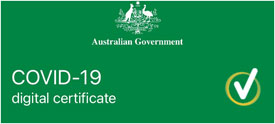 At the Mineral Sands Motel in Maryborough, Queensland, you will get a warm welcome from the Barounis family – John, Tricia, Yannis and Zoe.
Whether it be trips to the delightful Lady Elliot Island to see turtles come ashore to lay their eggs, the grandeur of Fraser Island, seeing the majestic humpback whales in Hervey Bay from August to October, cruising down the Mary River or taking in the sights of our heritage city, the Mineral Sands Motel is the ideal base to explore our region.
Travelling alone? With your family? A large group? Don't worry! We have single, double and family rooms available.
(Discounts are available for large group bookings)
The Mineral Sands Motel offers:
Free WiFi
Free Foxtel
Free Guest Laundry
Inground Pool with Shaded Patio Area
Outdoor BBQ on the Patio
Continental Breakfasts ($7.50 per person)
Tour Information and Bookings Available
Free Parking
Courtesy Bus to Maryborough Sports Club
Courtesy Bus to Maryborough R.S.L.


*For those workers who would like a packed lunch we offer a comprehensive lunch package.
The motel is within walking distance to the following food outlets for your convenience: Dominos, Hungry Jacks, MacDonalds, Red Rooster, Thai Restaurant and Take Away, The Noodle Shop and fish and chips. We are also convenient to Station Square Shopping Centre, Aldi Supermarket, Super Cheap Auto and Bunnings.
It is only a 4minute drive from the motel to the Brolga Theatre and Convention Centre, a first class venue, which attracts the finest international and national performers.
Maryborough has a number of churches to allow visitors to worship in their faith. The town has beautiful parks for walking, running, relaxing or bird watching, as well as sport facilities such as an aquatic center, gyms, bowls clubs, 10 pin bowling and more.
If you are in Maryborough on a Thursday, visit the Heritage Markets, take a ride on the Mary Ann steam train or take a tour of the Heritage City on our very own air conditioned tour bus. Participate in the firing of the town cannon with Mary Heritage and the Town Crier on the town green and enjoy lunch in one of the picturesque cafés in the CBD.
Looking for something to do? Get recommendations on tours and attractions and how to get around town at our tour desk.
We are looking forward to being your hosts and we will make your stay comfortable.
Call us on (07) 4121 2366
7am to 9pm 7 days!